Key Research Interests and Fields
1. Machine Learning for Computer-Aided Design (MLCAD): Funded by Advantest
ML for Design for Reliability and Design for Testing.
ML for Circuit Thermal and Reliability Modeling.
ML for Transistor Compact Modeling.
2. Design for Reliability in Advanced Nanotechnologies Funded by Advantest
Advanced CMOS Technology: Nanosheet and Nanowire Transistors.
Device-Circuit Interaction: Transistor Aging, Self-Heating, Process Variation, Soft Errors
Reliability-Aware and Thermal-Aware System-on-Chip Design.
3. Approximate Computing for Deep Neural Network Acceleration: Funded by DFG
Approximate Computing for Efficient Implementation of Neural Processing Units.
Approximate Computing for Reliability Management.
4. Design for Security for Cyber-Physical Systems: Funded by ONR U.S.
Reliability Degradation-induced Security Threats.
Short-Term Circuit Aging for Hardware Trojan Detection.
5. Emerging Technologies for Future Computer Architectures
Post-CMOS Technology: Negative Capacitance Transistor (NCFET).
Novel Non-Volatile Memories: Ferroelectric FET (FeFET).
In-Memory Computing and Neuromorphic Computing.
6. Thermal Management for Many-Core Processors
Advanced Cooling Solutions using Thermoelectric Devices.
Resource Management for System-Level Optimizations.
Contact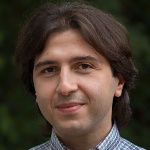 Hussam Amrouch
Prof. Dr.-Ing.
Semiconductor Test and Reliability,
please note new contact data on profile page!